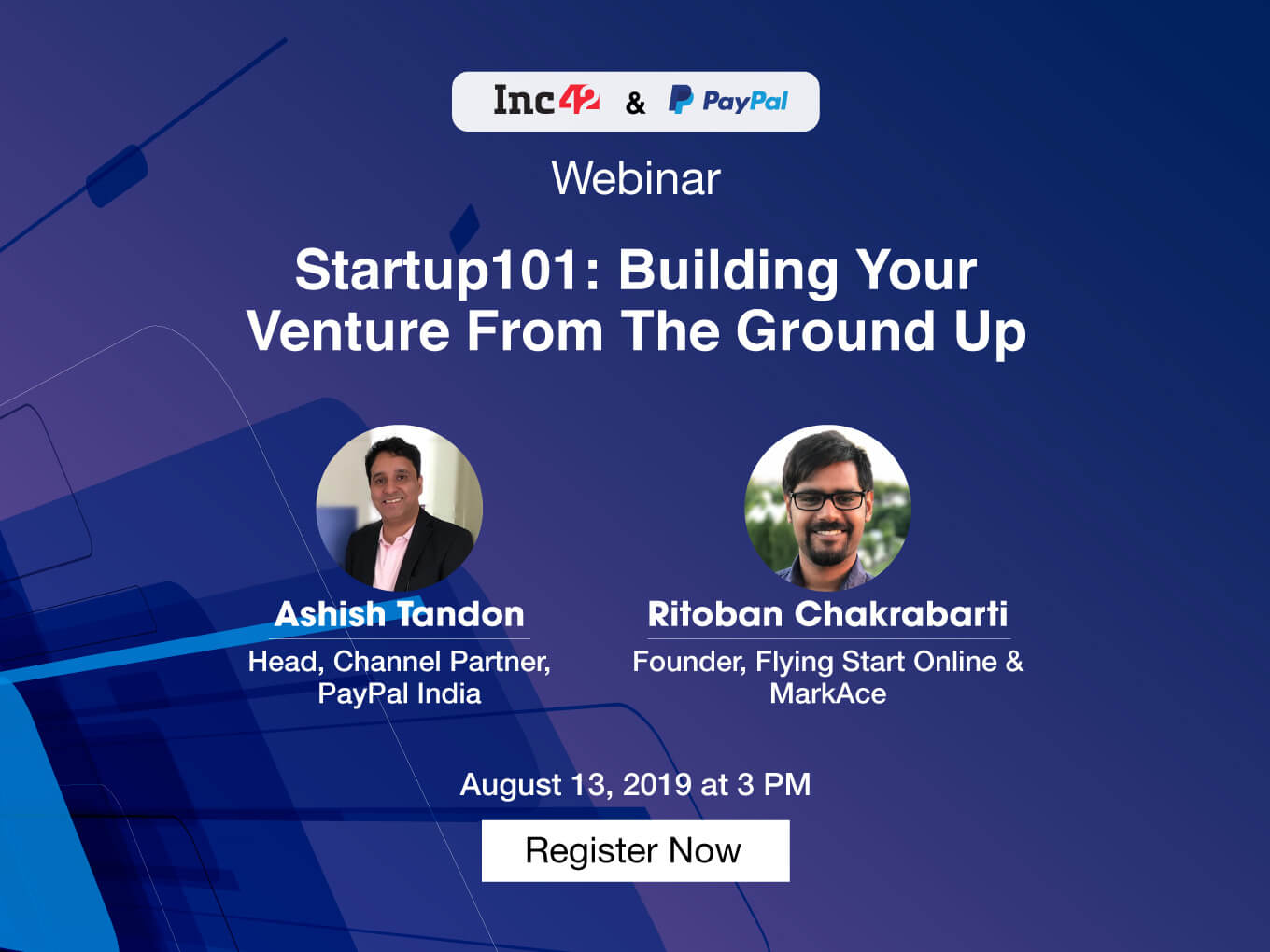 Startup101: Building Your Venture From The Ground Up 
We at Inc42, have been striving to help the various entities of the startup ecosystem in India such as budding entrepreneurs, aspiring freelancers, student-preneurs and more, since inception. From sharing our piece of advice to sharing crucial data about the ecosystem we have been putting our best foot forward to contribute to the growth of the ecosystem.
In alignment with our goal, PayPal and Inc42 are excited to announce the next webinar for "The Rising Freelance Economy" series— Startup101: Building Your Venture From The Ground Up going LIVE on 13th August'19 at 3 PM.
What Will You Learn In This Webinar?
This webinar as the name suggests will focus on giving important tips and best practices to budding entrepreneurs looking to venture in the online business world. 
To do the same we will be joined by Ritoban Chakrabarti AKA Rito, as he is popularly called, in the upcoming webinar. Rito started his online journey with freelancing in 2006, and then expanded to affiliate marketing. After a decade of successes and failures with various digital marketing ventures, he decided to teach online entrepreneurship for free on his YouTube channel Flying Start Online. His Bizathon series on the YouTube channel has helped over 12,000 Indians launch their ecommerce businesses.
We will also talk to Ritoban about how he built his own venture, the challenges he faced and the learnings he has gathered from their journey of starting up.
Along with him, we have Ashish Tandon, Head, Channel Partners, PayPal India  who will talk to us about the importance of digital payment tools for online businesses and how PayPal is partnering with various platforms to make online entrepreneurship easier for merchants.
The best part – you can directly ask questions and interact with him during the live webinar.
Don't forget to register for the webinar using the form on this page so we can remind you when we go Live.
About The Guests
Ritoban Chakrabarti is the founder and CEO of MarkAce Marketing & Flying Start Online. He believes in learning through execution and the mantra of  'practice what you preach'. An online entrepreneur by passion and engineer by education, he started MarkAce Marketing & Flying Start Online in 2009 and 2017 respectively. Having an engineering background, he broke all the norms and followed his dreams, fighting against all odds. Today Rito runs a 7 figure ecommerce store.
Ashish Tandon is Head, Channel Partners for PayPal in India. He joined PayPal in 2017 and has been hinging on alliances and partnerships. He is responsible for strategic planning, driving growth and enhancing the value for PayPal India through the Channel segment.