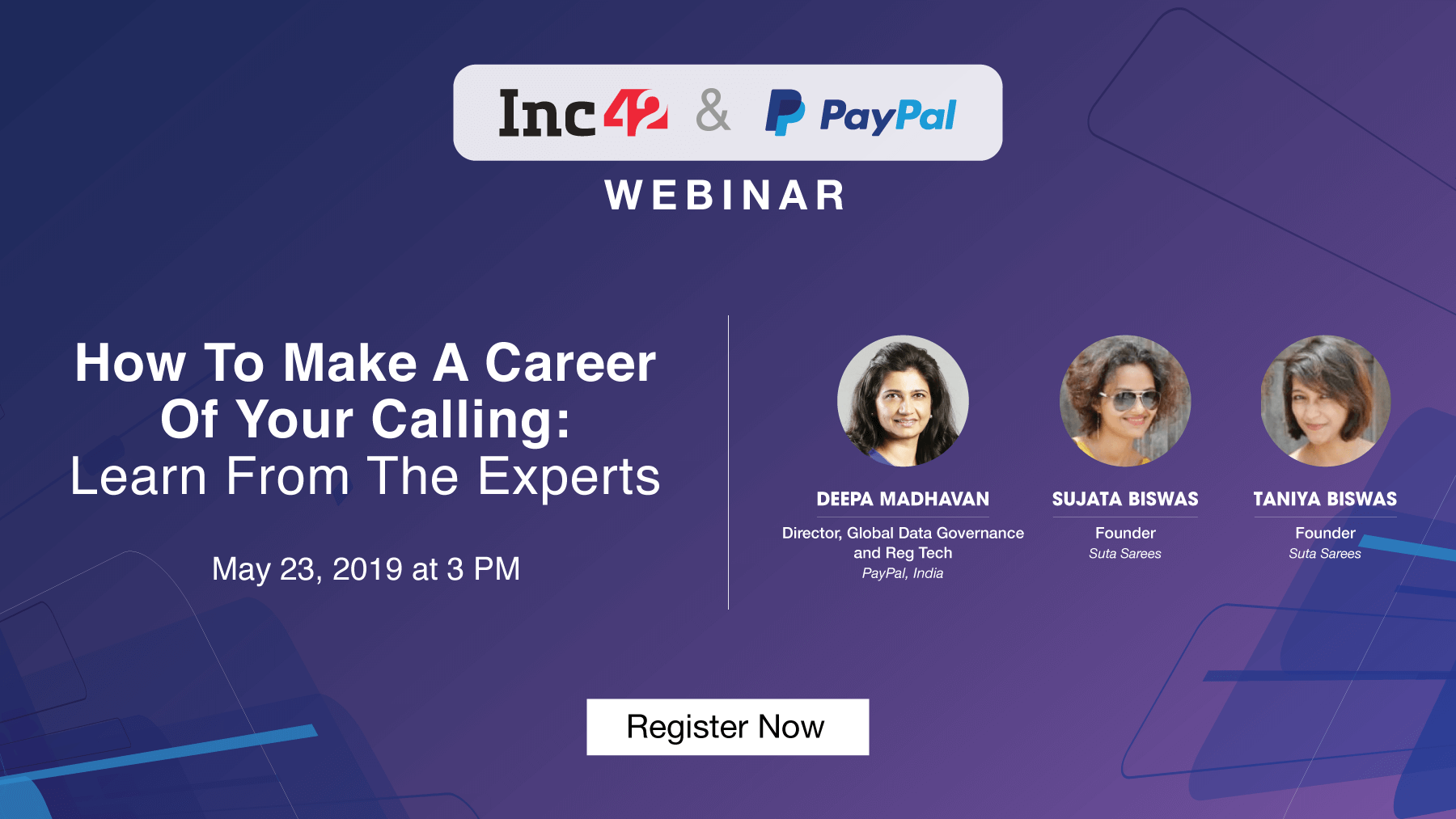 We at Inc42, have been striving to help the various entities of the startup ecosystem in India such as budding entrepreneurs, aspiring freelancers, student-preneurs and more, since inception. From sharing our piece of advice to sharing crucial data about the ecosystem we have been putting our best foot forward to contribute to the growth of the ecosystem.
In alignment with our goal, PayPal and Inc42 are excited to announce the next webinar for "The Rising Freelance Economy" series— How To Make A Career Of Your Calling – Learn From The Experts.
What Will You Learn In This Webinar?
In this webinar, we'll be talking to Sujata and Taniya Biswas, the founders of Suta Sarees and Deepa Madhavan, Director, Global Governance & Reg Tech, PayPal about how aspiring and budding entrepreneurs can identify and follow their calling.
We will also talk to Sujata and Taniya about how they made their calling into a successful career, the challenges they faced and the learnings they have gathered from their journey of starting up.
The best part – you can directly interact and ask questions from them during the live webinar.
Want us to ask your question during the webinar? Add it to the comments section below.
Don't forget to register for the webinar using the form on this page so we can remind you when we go Live.
About The Guests
Sujata Biswas is the CEO and cofounder of Suta. She believes that small and sustainable steps taken with dedication, creates a big and impactful difference in any industry. A designer by passion and engineer by education, she started Suta Sarees with her siste Taniya in 2015.
Taniya Biswas being the cofounder of Suta, believes in "Chasing down your passion like it's the last bus of the night". After graduating as a ceramic engineer and doing her post-graduation in strategy & marketing, she was working at IBM as a strategy consultant for 3 years during which she identified her calling and took a step towards building Suta Sarees.
Deepa Madhavan has a rich career spanning almost two decades and has helped build the data organisation at PayPal Chennai. She joined PayPal in 2009 and has effectively led teams in the Enterprise Datawarehouse for several years. She is currently part of the Global Data Governance and Regulatory Technology team and manages the regulatory data function within the company.